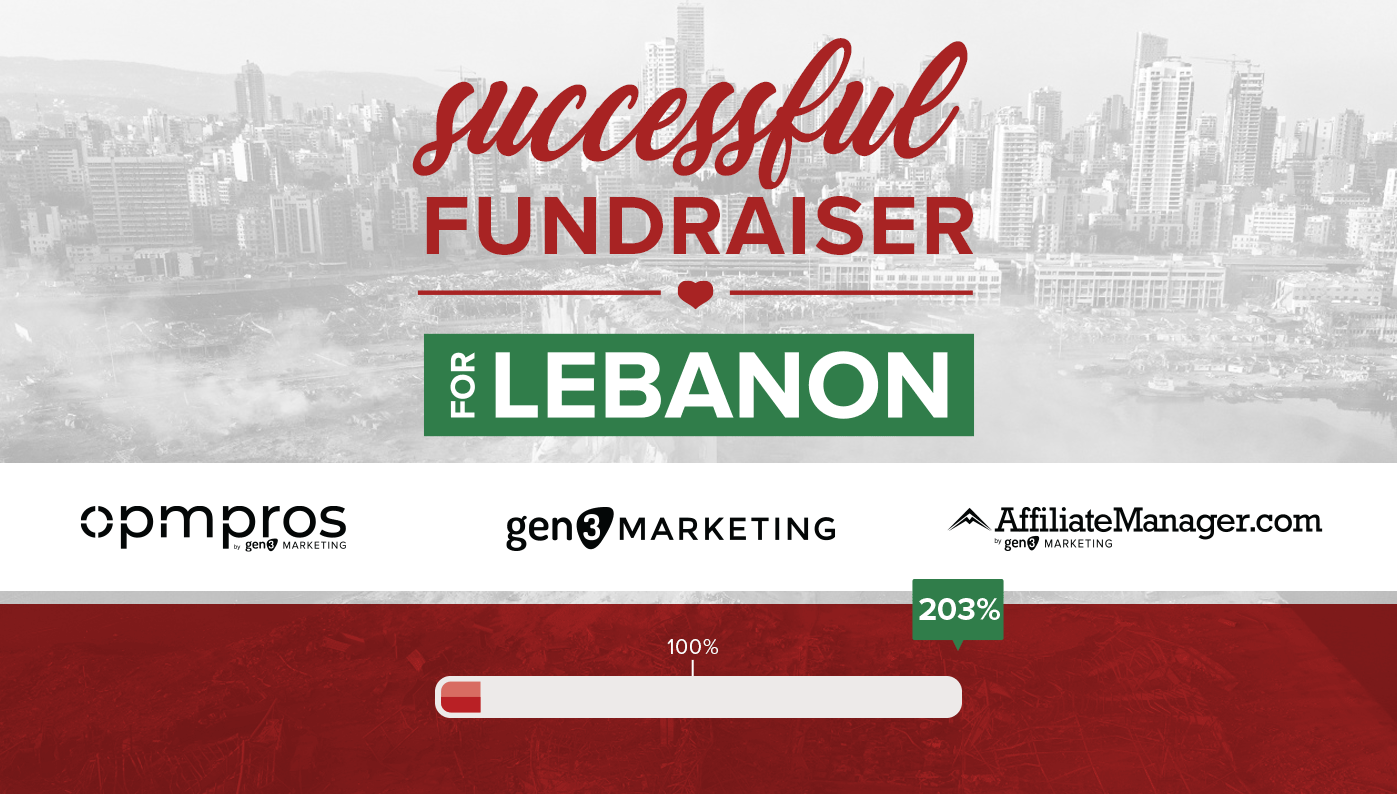 Gen3 Marketing (Gen3Marketing.com, OPMpros.com, AffiliateManager.com) Surpasses Fundraiser Goal for Beirut!
Lebanon is currently going through an exceptionally difficult time following the catastrophic explosion that happened at the Beirut Port on Tuesday, August 4. A huge store of highly reactive chemical ammonium nitrate ignited and blew up at Beirut's port area, sending shockwaves across the country, shattering windows, collapsing roofs and destroying homes. This led to over 200 deaths, 5,000 injured, and 300,000 people have been left homeless.
At Gen3 Marketing (Gen3Marketing.com, OPMpros.com, AffiliateManager.com), we are always looking for ways to support those in need. We embrace diversity and we knew we had to do our best to support our Lebanese colleagues during this challenging time. We started a fundraiser page with a Canadian NGO: Humanitarian Coalition. This Coalition brings together leading aid organizations to provide Canadians with a simple and effective way to help during international humanitarian disasters. In order to maximise our contribution, OPM Pros matched donations made by team members. We had a collective goal of $2,500 CAD. Using our organization's connections and our social media platforms, we raised awareness for Beirut and encouraged our partners to donate via this link.  
Within 2 weeks, we managed to contribute an outstanding

$5,070

! This amount is also matched by the Canadian government for a total donation amount of

$10,140

!
We are hopeful that this donation will make a meaningful impact by delivery emergency aid including temporary shelters, distributing food baskets, providing injury care, repairing damaged water facilities and much more. Although the government matching fund ended on August 24, the Humanitarian Coalition will continue accepting donations until September 4 to meet the urgent and ongoing needs on the ground in Lebanon. You can contribute by following this link. We urge to continue to spread awareness for the Lebanese crisis.
Thank you to everyone who has supported this initiative and continues to support our agency.
Together, we're saving lives!