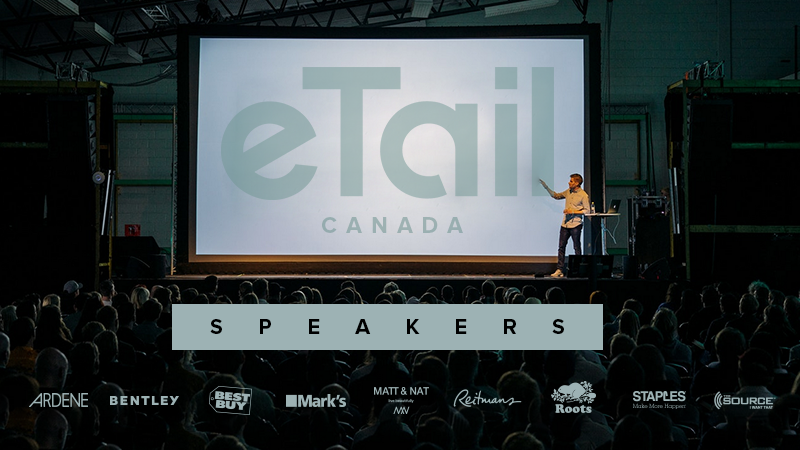 eTail Canada 2018: Keynotes on our Radar
An annual staple for the OPM Pros team, eTail is a Toronto-based conference at which Canada's leading retailers share cutting edge knowledge on all topics related to bettering your business. This year, we are proud to see many of our clients hosting sessions, including speakers from Ardene, Bentley Leathers, Best Buy, Mark's, Matt & Nat, Reitmans, Roots, Staples, The Source and more.
Kicking off tomorrow, the 3-day event is set to be chock full of keynotes, interactive learning, fireside chats and educational panels, with a side of networking opportunities. With a different focus for each day, eTail Canada will cover: the sophisticated use of data and fulfillment, a deep dive on how to build communities around your customers by driving loyalty and engagement, and innovations to consider for the future landscape of retail.
We can't say we are bias ; ) but our clients' sessions are not to be missed:
Day 01 – Tuesday, May 15, 2108 | E-Commerce Brilliance is Better Data & Fulfillment
11:35AM – 11:55AM | Putting the Consumer [Data] Back in the Consumer Experience
James Connell, VP E-Commerce & Marketing – Roots
Rob Garf, VP Industry Strategy & Insights – Salesforce
With all the talk about artificial intelligence (AI), the ability for retailers to manage consumer data is more important than ever. By discussing key findings based on global research conducted by Salesforce and Deloitte, learn how leading retailers harness consumer data to enable AI, deliver personalized interactions, and unify the consumer experience.
11:55AM – 12:35PM | INTERACTIVE PANEL: Breaking Down Silos and Exploring Different Company Structures with Respect to E-Commerce
Georgia Genovezos, Head of E-Commerce – Ardene
Brendan Toupin, Director of E-Commerce – Best Buy Canada
Richard Sejean, Director of E-Commerce – Browns Shoes
Jaylone Lee, Head of Marketing & E-Commerce – Bestseller
Companies are striving to create a seamless customer experience but are finding that, in order to do so, internal silos must shift to facilitate an integrated approach to omni-channel retail.  No two companies are alike when it comes to where and how to place the internal e-commerce and digital functions.  This panel will delve into different structures and how they have solved or created challenges.
4:05 pm – 4:45 pm | CASE STUDY INTERACTIVE: Pitfalls and Opportunities in Fulfillment 
Tara Conway, VP E-Commerce – The Source
Whether you are a bricks and mortar or pure play company, the jump into direct to customer delivery contains many challenges.  This session will provide practical advice for newbies and experienced folks alike.
4:45PM – 5:30PM | PANEL INTERACTIVE: Developing your Delivery Playbook – Making Delivery Fast & Cost Effective to your Bottom Line
Richard Betanzos, Director of E-Commerce and Omni-Channel – Bentley Leathers
Ryan Bennett Sr., Business Development Manager – Ingram Micro
Duane Gibson, President – Gibby's Supermarket
Matt Snyder, VP Operations Services – Radial
Consumer expectations have made free, fast shipping an implicit part of their customer experience.  This is at complete odds with the hard reality that DELIVERY IS EXPENSIVE.  This session will tackle this universal pain point, providing strategic takeaways when it comes to balancing the race to meet consumer expectations while protecting the long term sustainability of your business.
Day Two: Wednesday, May 16, 2018 | Placing the Customer at the Center of Your Omni-Channel Ecosystem
11:15AM – 11:35AM | Defying Boundaries to Grow your Brand Across Channels and Markets
Paul Kohli, President E-Commerce – Matt & Nat
Since 2013, sales of Matt & Nat's vegan accessories have grow 400%. Five brick-and-mortar locations later, and a successful international online presence, Kohli shares insights into the practical steps and the power of social media and content sites in growing the brand.
11:35AM | PANEL INTERACTIVE: Taking the Best of Brick-and-Mortar and Pure-Play Companies to Craft your Seamless Omni-Channel Customer Journey
Victoria Lee, Director of E-Commerce – Roots Canada
Sharing insights from companies that grew from a digital native or brick-and-mortar into a hybrid entity and the best practices learned along the way.
1:45PM – 2:05PM | FIRESIDE CHAT: Technical and Creative Chops – Building a Powerhouse E-Commerce Team
Colin Picard, Director of Human Resources – Best Buy Canada
Scott D'Cunha, VP of Marketing E-Commerce and Communications – Staples Business Advantage
In the wild west of e-commerce, a new breed of professional is in high demand.  Are these wunderkids born, or made?  Companies will discuss their different approaches to meeting ongoing, pressing talent needs.
Day Three: Thursday, May 17, 2018 | Questioning the Status Quo and Taking on Tomorrow
11:30AM | Merging the Consumer Journey: Connecting Consumer Commerce Across Channels
Prashant Ramesh, Director of E-Commerce – Adidas Canada
Michael Smyth, Director of Retail – Adidas Canada
The Adidas Canada team will share insights as to how they are using their website to drive in-store traffic, effectively connecting physical locations and the website using digital strategies and aligning marketing, IT and operations efforts to support click-and-collect practices.
2:25PM – 4:00PM | Wrap-Up Roundtables: Lessons Learned and Takeaways
Johnny Russo, Associate VP of Digital Marketing and E-Commerce – Mark's
Concluding with a wrap-up on conference take-aways and a last chance to discuss curiosities that may have been left hanging, Russo will also guide us in exploring what these innovations mean for the future of the consumer and our businesses.